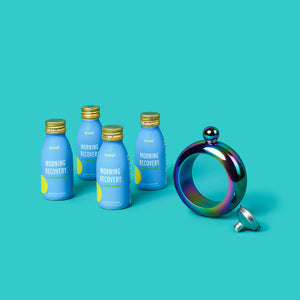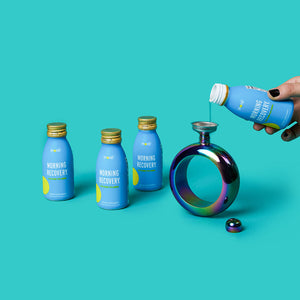 Product image 1

Product image 2

C&T X Morning Recovery Bundle
Description
There's no such thing as 'too much fun,' but just in case your night got the best of you, we partnered with Morning Recovery to help you bounce back quickly.

Morning Recovery by More Labs is a boosting detox shot engineered to help you outsmart rough mornings after drinking. Think of Morning Recovery as your body's wingman, bouncer, and bodyguard all at once.


To learn more about Morning Recovery click here.
Details
Iridescent Bangle Flask - 3.5 oz.

Hand Wash Only

4-pack Morning Recovery by More Labs - 3.5 fl oz 

Please read labels, warnings, and directions before use

Morning Recovery Ingredients - Proprietary DHM (dihydromyricetin) blend: Hovenia Dulcis, Rattan Tea, Wolfberry Extract, Fructose Mume, Bulbus Lilii, Maltodextrin, Isomalt, Stevioside, Milk Thistle Seed Extract, Prickly Pear Extract, Taurine (vegan), L-glutathione, Jujube Fruit Extract, Green Tea Extract, Korean Red Ginseng Root Extract, Korean Pear Extract, Vitamin C (as Ascorbic Acid), Thiamin (as Thiamine Hydrochloride), Niacin (as Niacinamide), Vitamin B6 (as Pyroxidine Hydrochloride), Folate, Vitamin B12 (as Cyanocobalamin), Calcium, Magnesium, Sodium, Potassium
Reviews